Bharat Veena is a new musical instrument designed and developed based on the shruti theory described in the Bharata's Natyashastra. You can play and demonstrate Bharata's 22 shrutis (microtones) on this instrument with certainty. It has 22 frets in each octave/ Saptaka dedicated to each shruti. Apart from that Bharat Veena is a completely new instrument by itself. It can be used as an accompaniment as well as for a solo performance. Bharat Veena is designed and developed by Dr. Vinod Vidwans who is a Professor and Chair of FLAME School of Fine & Performing Arts, FLAME University, Pune.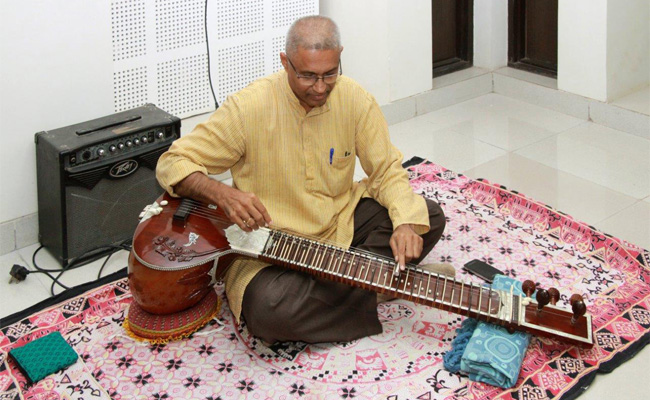 Ancient treatises such as Bharata's Natyashastra offer possibilities for scholarly research into ancient knowledge systems and practices. The `Shruti-Nidarshanam' experiment is one of the most important experiment described in the Natyashastra of Bharata. This experiment is so accurate and sophisticated that one gets awe-struck by the intellectual and mathematical genius of the creator of this experiment. Dr. Vidwans has closely scrutinized the original textual description of this experiment from Bharata's Natyashastra and was convinced about the equal-temperament paradigm of 22 Shrutis. However, he decided to empirically verify it and therefore he designed and constructed a Shruti Veena. To his astonishment the experiment was consistent with textual description beyond doubt. Therefore, he decided to name this Shruti Veena as `Bharat Veena' since it is based on the Bharata's paradigm of equal temperament 22 shrutis. FLAME University has published a monograph titled `The Doctrine of Shruti in Indian Music' by Dr. Vidwans that deals with the concept of shruti- microtones in Indian music and it is freely available at the following link.
http://www.computationalmusic.com/the-doctrine-of-shruti-in-indian-music.php
Bharat Veena is certainly important from musicological point of view since it substantiates ancient musical theory of equal temperament 22 shrutis. However, it is also important because it is completely new innovation on the traditional Sitar. While designing Bharat Veena, the traditional Sitar is used as a base; however with many major and minor changes into it now it has become completely different from Sitar in every respect. It does not have sympathetic (Taraf) strings and the drone (Chikari) strings. Its sound, playing style and technique is completely different from Sitar. It is completely different from any other existing string instruments such as Sarod, Sarangi or Veena for that matter. It may have some resemblance with `Gotu Vadyam' or `Mohan Veena' in terms of playing style but in other respects it is completely a new musical instrument.
The most important feature of Bharat Veena is that it can demonstrate Bharata's 22 shrutis with certainty. Shrutis are the microtones which are used very subtly in classical music. They bring in emotional color and flavor to musical rendering. Bharat Veena has 22 frets in one octave/ Saptaka. These frets are coded with an encoding system for the ease of identification. Each fret stands for a shruti or microtone. For instance, we can play and demonstrate three microtones of Gandhara or Nishada swara in a definite way. In a similar manner we can play shrutis or microtones of all the other swaras in a definite way on Bharat Veena.
Designing a musical instrument is a fascinating exercise. One needs to think about various factors while designing and making a musical instrument. First of all one needs to think about the kind of music that is going to be played on the instrument. In this case was very clear that it is going to be an instrument for Indian music using shruti microtones. Indian music is highly melodious and because of shrutis melodies become highly emotional. Therefore it was thought that instead of pressing and stretching the strings like a Sitar, sliding and gliding a tone bar on strings would be more appropriate. This helps in smooth transition of the sound from one shruti to another. It is played with a plectrum like a guitar pick and you can pluck more than one strings at the same time.
Designing a musical instrument is also very interesting for another reason. There is a very close relationship between music, mathematics and physics. While designing Bharat Veena one needs to decide about the material of strings, their sizes, sound quality etc. Also while fixing the frets one needs to decide about the distance between the frets by calculating frequency rations of shrutis. Bharat Veena has five strings- two thin steel strings 30 gauge, two thicker steel strings of 26 gauge and one copper string of 24 gauge. The frets are placed on musically equal distance in each octave.
Recently, Bharat Veena is presented before the panel of experts at Indira Gandhi national Centre of Arts, New Delhi.
Dr. Kiran Thakur has been constant source of support in development of Bharat Veena.
Mr. Sajid Mirajkar and his team was engaged in I actual making of the Bharat Veena. Their enthusiasm and readiness to explore possibilities and make the necessary changes, while making a new instrument such as a Bharat Veena/ Shruti Veena are highly appreciable.
For more details contact:
Dr. Vinod Vidwans,
Professor and Chair, FLAME School of Fine and Performing Arts,
FLAME University Pune.
Email: Vidwans@flame.edu.in